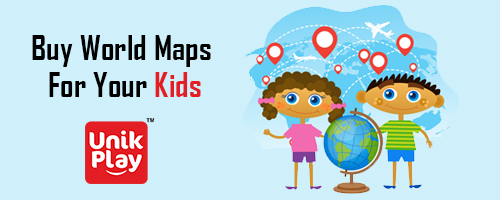 Teaching your kids to learn about the world around them can be quite fascinating. It's a lovely way to learn more about the world you live in. The kids enjoy learning new things engagingly and enjoyably. Using a basic visual tool like maps can be very beneficial for children to learn something new every day. It instills in children the ability to understand knowledge through curiosity.
Let's look at the top reasons why you must encourage your kids to learn world maps:
Develops analytical abilities
Reading maps is an excellent element for children's analytical reasoning development. And this is one of the most important types of reasoning to develop as you get older. Geographical maps aid children in the creation of this inner world. They show him the relative positions of objects, places, towns, and countries.
Knows the world around them
Kids must be able to identify locations listed in the news or their books. Children must identify a place's name with the area in which that place is found. This information will be ingrained in his memory and will assist the child in becoming more effective in an interconnected world.
This is important for the kids to notice things around them and you should put up inspiring things around them for decorating their rooms. World maps are the perfect things to use for decoration purposes for your kids. Furthermore, a world map is an unrivaled focal point in context to being an excellent learning tool. You cannot refuse a wall map's historical beauty and grace.
Buy coloring world maps from our store because these are a fun way to learn and you can simply color it and put it up on your walls to enhance the elegance of your rooms!