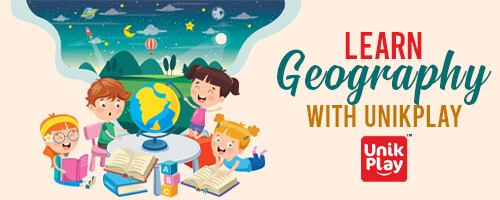 Whenever we speak or think of Geography, we could only think of anything related to maps, countries, their capitals, etc. But Geography is much more than that. Geography implies the study of humans and their environment, it is connected with the history of human civilization and explains relationships between humans and the environment. Many people pursue Geography as this subject is quite captivating and inspires you to want to learn more. 
Why is Geography fundamental for your children?
Created awareness about the world
One of the major aspects of Geography is that it provides us with learning about the places and the world we love. This in turn creates a sense of awareness among the kids. Learning geography introduces places and spaces with meaning and knowledge. It also helps children globally with structural knowledge.
Developing some important skills in your children is crucial. Geography enhances their reading and reasoning skills for children of all ages, not only in the study of maps but also in the learning resources associated with geography.
Geography assists us to keep a track of human history, many people don't understand that Geography somehow linked to the human history of when, and how things have taken shape in the world. 
Learn Geography with UnikPlay
UnikPlay was created with a prime focus on helping the young generation to uncover the geographical aspects of the earth with simplicity and fun. We designed easy cartography products such as 'Geografika' so that the kids can learn more about the countries, continents, animals, rivers, and much more in an interactive manner. Happy learning!